"Lizzie's
Tale
Tail" from Darryl Ayo
In a world of huge superhero event-comics (Marvel (@Marvel) has begun "Fear Itself" and DC (@DC_NATION) has released the first issue of "Flashpoint" this past month) and unnerving underground sexual-confessional comics (Chester Brown just spoke at The Strand bookstore (@Strandbookstore) yesterday on "Paying For It: A Comic Strip Memoir About Being a John") and comics from different world cultures crowding my brain (these past months I've been introduced to the work of comicsmiths from Japan, Denmark, and Romania)... it's really nice to read a short, simple, well-made, (and best of all) FUN mini-comic.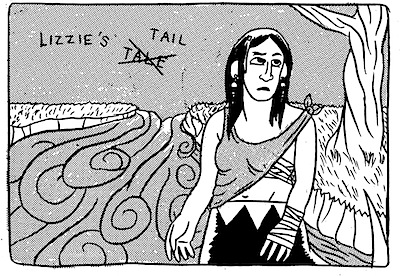 Darryl Ayo (@darrylayo) puts heart and mind into his comics full-throttle:
This one's got a fawn, a magical mermaid, a guy with dreads and four arms, and one bad-ass humanoid main character with a tail named Lizzie! And the whole thing can be read between average NYC subway stops.
Ayo's art is not supremely polished here, he is not a master draftsman, but his storytelling technique is excellent. Note the depiction of a few feet of water in which hides our hero's rescue in the form of a mysterious mermaid! A simple double smooth stroke denotes the water-line and all items below said water-line are ever-so-slightly distorted to give us that underwater fish-eye-camera view.
The action is smartly realized on the page (most of the time...) despite the fact that the piece is pure comedy and the action could have looked like crap and we would have gotten the jokes just as well.
My favorite panel is the climactic moment two pages later in which the mermaid smacks into the four-armed dude! The figures don't seem to have the proper weight of collision but the composition of the panel is dramatic and FEELS accurate (the four-arms on the single torso rarely works as well as it does here), and the cartooning-work in the faces of all three figures belies this great surreal feeling for me: Each character clearly has a distinct thought in their head at this exact moment. I love it.
A good amount of the faces in the comic in general are delightful actually. Lizzie's near-constant look of nonplussed bravado in the face of chaos makes for great deadpan humor.

She battles these various creatures to a stand-still and is finally gifted a bronze pendant by her silent aquamarine saviour. But the entire delightful little pseudo-mythological story is a framed story, opening and closing with a simple interaction between friends in a typical urban setting.
A simple question lead to this grandiose over-the-top spun tale of courage and violence and it ends with:
"
Oh come OFF it!
You got that pendant at Medusa's antique shop. I was there.


Oh yeah.
Yeah.
"
Priceless.
"Lizzie's
Tale
Tail" premiered last month at MoCCA 2o11 where I met Darryl and bought the mini on the recommendation of Mike Cavallaro. Darryl maintains a website with a lot of comics and excellent comics commentary at
Let'sGoAyo.com
Check out his stuff.

~ @JonGorga