Last year's "Watchmen" film adaptation came out and there was a huge fan-fare and the trailer was magnificent, advertisements appeared everywhere,
the world seemed to scramble to book stores and comic shops to read it
and it sold like crazy for a few months, the action figures were gorgeous and, amazingly, in recognition that something was in the air,
The New York Times
finally created a 'graphic books' best-seller list (only online, however) and all us comics types were very happy.
Whew! Yeah! Awesome!
[Rorschach action figure image at right from DC Direct website.]
But then something happened. The film was a garish, occasionally unintentionally hilarious, extravaganza of superhero violence.
That was my initial reaction anyway. Can you tell I was disappointed? I've calmed down a lot since that day but I stand by my core reaction: in making a Hollywood motion picture out of Alan Moore's and Dave Gibbons' mini-series Zack Snyder took out all the quiet character moments and amped up the violent/sexual ones. The resulting film had a lot of the core spirit of the comics, but none of the beauty or honesty.
I said to everyone beforehand: 'Hey, if the movie is great more people will come out jazzed to read it than there are already. If it sucks, millions of regular, everyday people across the world will say 'It wasn't as good as the comic' and
mean it
." Still, the resulting film was so self-indulgent and violent I feared that there would be a backlash. That people would say: 'See? In
reality
all that superhero and comics stuff just comes to violence and sex. No more.' Generally, we didn't get that outside of a few cranks. (Despite the fact that we saw it big time when "Sin City"'s adaptation came out years earlier.) More importantly we didn't, thank god, move backward; but the movie's release slowed the progress we were making. Junot Diaz, awesome novelist and establishment geek, said something that amounted to: 'the Watchmen movie
trailer
was the best thing to happen to the comics industry in a long time.'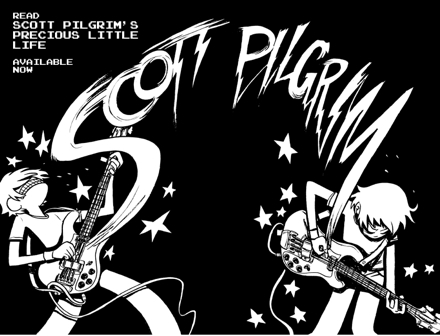 ENTER: Bryan Lee O'Malley's series of graphic novels that began with
"Scott Pilgrim's Precious Little Life"
and Edgar Wright's upcoming film adaptation "Scott Pilgrim Vs. The World" that opens tonight at midnight. The process that came before the release of "Watchmen" has happened again, but bigger because both the film and the last comic are summer releases! Let's hope the last part of the story doesn't repeat as well.
Clare has informed me that not only is the last comic
"Scott Pilgrim's Finest Hour"
sold out in the comics store she works at, but that ONI Press itself has run out of copies of the book and has to go back to the printer and thus only the chain bookstores have copies.
That's pretty remarkable. Superhero comic-books sell out of stock. Indie graphic novels do not.
I think it shows that people really are willing to find comics shops (at least Graphic Novel sections) and try something if they've heard good things/they want to be informed about a big cultural phenomenon at the zeitgeist. That's the one solo difference between this moment in time and past big-scale adaption film releases or films based on non-superhero comics: The sixth book just came out. Everyone can be pretty nearly on the ground-floor together and enjoy the latest (and final) comic and the adaptation of the whole series together.
But if it's a bubble ready to burst (not jinxing it, not jinxing it, not jinxing it) I want to enjoy it too, and the window is closing fast. At time of writing I am 35 pages into
"Scott Pilgrim Gets It Together"
, the fourth book in the series. That means just about three graphic novels to go. I am going to finish them by midnight tonight.
So help me god.
Oh and Twitter. So help me Twitter. Because that's where you'll see my updates on this adventure over the next... YIPES! less than twelve hours! I better get back to reading!
~ @JonGorga (<--See if I make it on my Twitter account! Not the LongandShortbox account.)